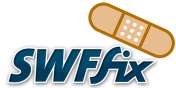 I was excited to see SWFFix announce the release of a public alpha. I had begun to fear that the project was moribund. SWFFix is from the developers of SWFObject, UFO and the Flash player detection kit, joining forces to create what one hopes will be the best Flash-embedding method yet.
I haven't tried it yet, but based on reading the documentation, it seems they've come up with a clever approach, one that's different than both SWFObject and UFO (although you can also use it in a SWFObject/UFO-like manner if you want to).
Instead of using JavaScript to write the Flash object or embed tags, you instead use regular W3C-compliant markup to add the Flash content to your page. Then the SWFFix JavaScript library steps in and fixes the issues that can arise on different browsers and platforms. For example, it fixes Internet Explorer's "click-to-activate" mechanism. It can also optionally adds enhancements like ExpressInstall.
I think it's a great approach. If JavaScript is disabled, for example, the Flash content will still play (unlike what happens with SWFObject and UFO). I will have to try it out soon.
§ 2 Responses to SWFFix releases public alpha!"